Washable Pet Sofa Bed, Calming Dog Bed, Dog Couch cover
Guaranteed SAFE Checkout
THE ULTIMATE SOLUTION FOR DOG'S ANXIETY !!
The raised rim provides a sense of safety and comfort. The soft synthetic fur resembles a mother's fur coat in terms of comfort. It has been shown to reduce anxiety and to assist the nervous system quiet down and relaxing faster.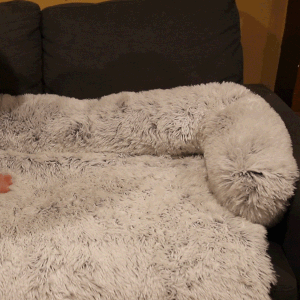 TIRED OF PET HAIR, MESS & SPILLS ON YOUR COUCH?


Created with anxiety-relieving principles, The Cozy Bed from Petnoo protects your 
couch, bed, or car
 while providing a comfortable place of rest for your pet.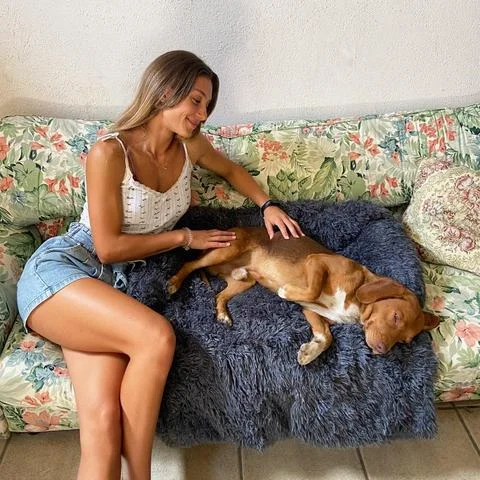 Calming Dog Bed Sofa Protector
HIGH QUALITY: Using the same materials as our calming dog bed, these Sofa Dog Covers create an instant calming effect that helps them get comfortable and relax.
FURNITURE PROTECTOR:  These Pet Calming Sofa Covers will protect your couch, bed, car, or any surface from accidents that can occur and lets you rest easy knowing you won't need to clean up after your pooch.
COMFORT: Our Calming Furniture Protector has been created with a soft-filled filling that lets your pup snuggle in and get comfortable. The soft faux fur is great for providing support and a comfortable space to snooze.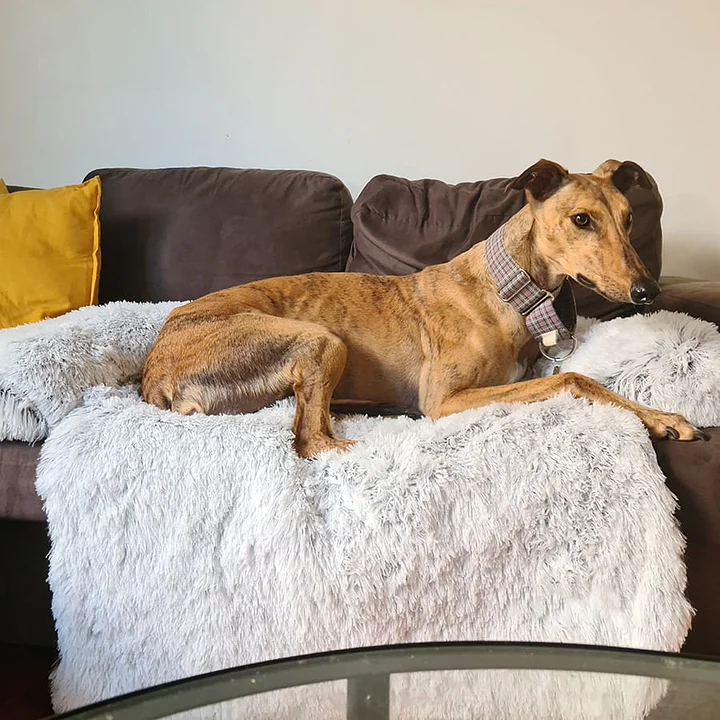 Non-Slip Bottom & Tough Design

Our Calming Furniture Couch Protector was created with a non-slip bottom. It will even stay put on a leather couch! For overactive pups, the fur outer was created to be tear and bite resistant.

Perfect for pups, kids & cats:

Originally designed for dogs, customers with young children and cats have loved our Calming Furniture Couch for its ability to protect from spills and accidents.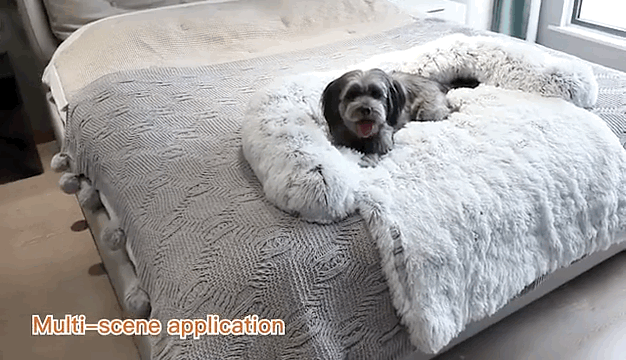 #1 RATED FURNITURE DOG BED 2023

🐾  Soft faux fur for a happy, comfortable pup
🐾  Anti-anxiety properties calm your pet
🐾  Removable and washable cover to keep it fresh
🐾  Protects your couch from hair, spills and mess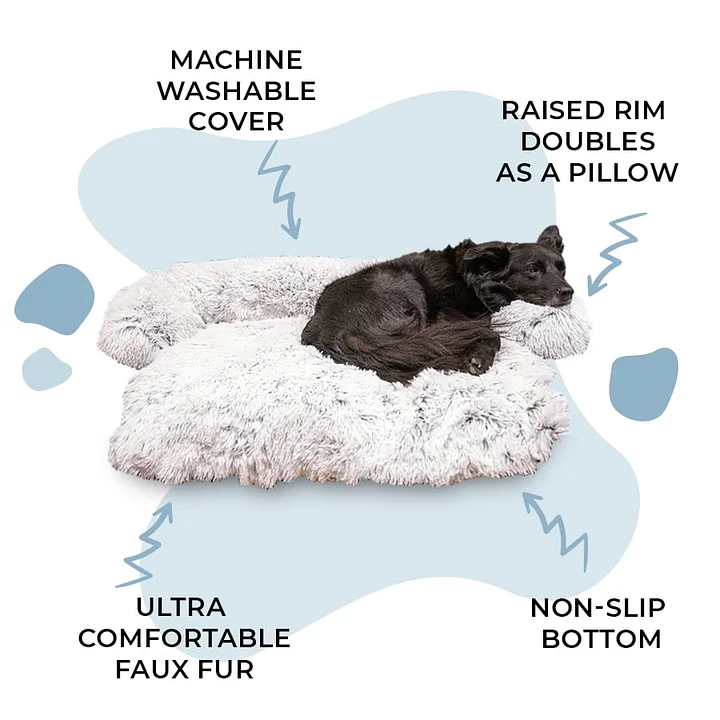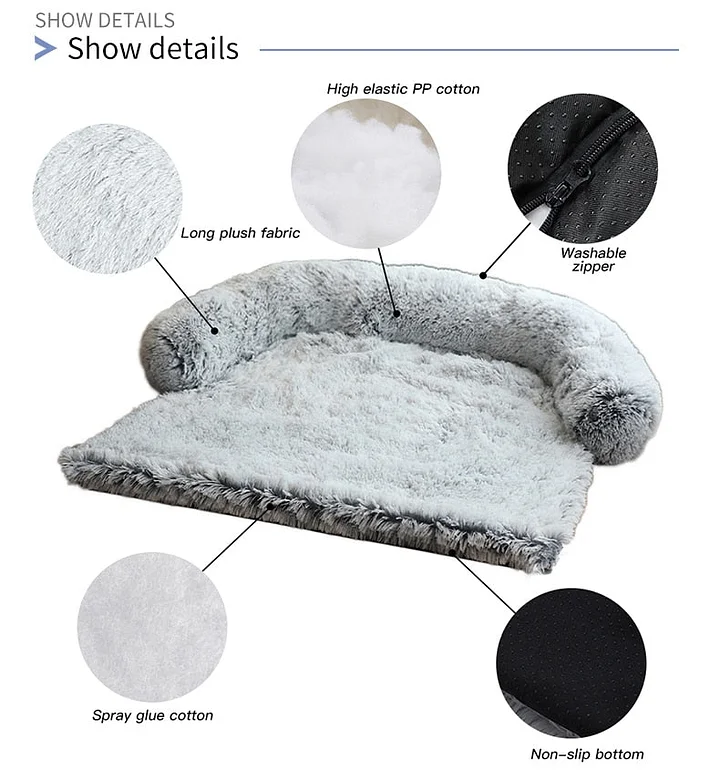 Anti Anxiety
Doubles as a pillow and barrier to provide a sense of security and relieve anxiety.


Soft Faux Fur
Keeping your pup comfortable and warm.

Versatile For Any Situation
Whether it's in the car or on the bed, you can take your couch protector everywhere you go.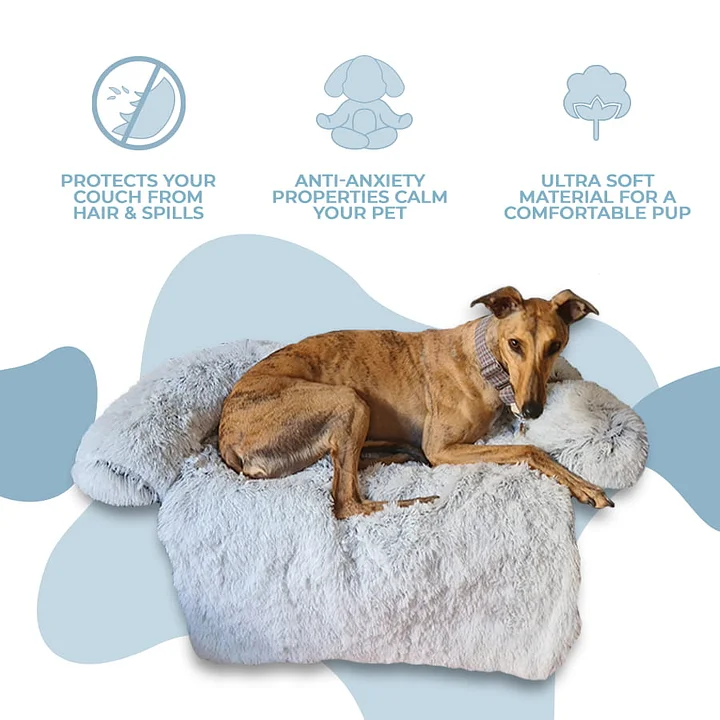 WHY WE HAVE THE NO.1 RATED CALMING FURNITURE BED

94%
 of customers reported that their dog experienced reduced stress & anxiety whilst 
39%
 followed up with an email expressing how their pet 'loves' it!
Our Calming Furniture Protector is 
specially designed to reduce your pup's anxiety
 whilst allowing you to keep them where they feel most safe, next to you! The raised rim creates a
 sense of security
 whilst the 
premium ultra-soft fur
 keeps your dog cozy and protects your furniture!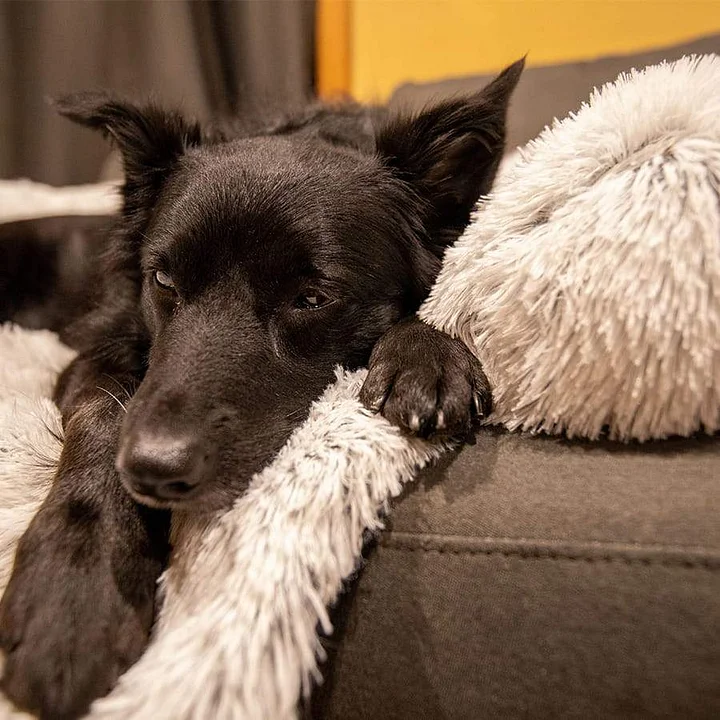 Fido on Cloud9...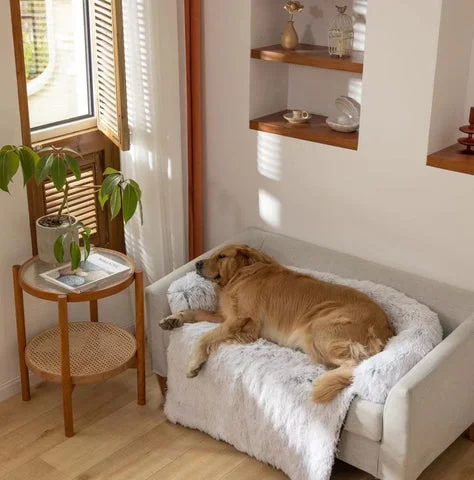 HAIR AND SPILLS ON YOUR COUCH ARE FRUSTRATING.
You love your pet but don't love the fur, mess, or spills that can ruin your couch or bed.
So, what can you do about it? Bed sheets look dreadful and won't protect from liquids and accidents. Regular old couch covers look dated, slip off, and aren't comfortable for you or your pup.
That's where we come in. Our Cozy Protector Bed is completely 
waterproof
 and protects your space from spills, hair, and grime while providing a calming and 
comfortable
 place for your pup. It's a two-in-one bed and protector!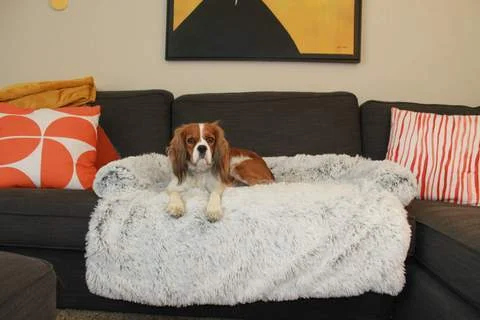 DOG-PROOF YOUR FURNITURE
Always feel bad about your dog jumping on your pristine furniture? Our Pet Calming Furniture Protector provides the perfect solution.     
✔️ Prevents tears and scratches.
✔️ Protects against fur, dirt, and smells.
✔️ Can be used on a bed, sofa, floor, or car seat.
✔️ Equipped with a water-resistant liner for your peace of mind!
MAXIMUM COMFORT
A combination of thick padding and dog-friendly materials ensures that your fur baby will always feel cozy and at ease every time they lounge or sleep on the sofa.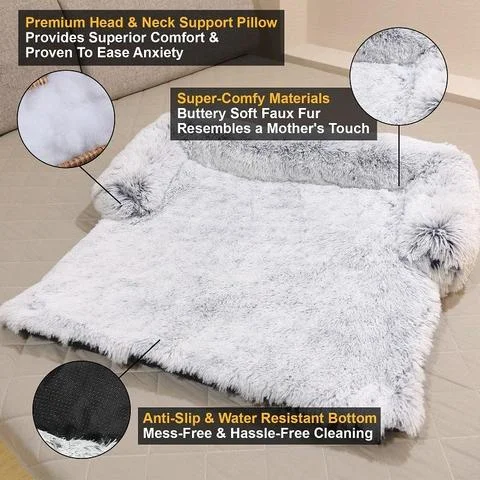 Is the couch protector easy to clean?

Of course! We designed our cover to be completely removable and machine washable. Just throw it in the washing machine to remove hair, stains, and muck and keep your couch fresh.

If that wasn't enough, the couch has been developed with an odor-neutralizing enzyme that absorbs pet odors and protects any area from pesky (and embarrassing) pet smells.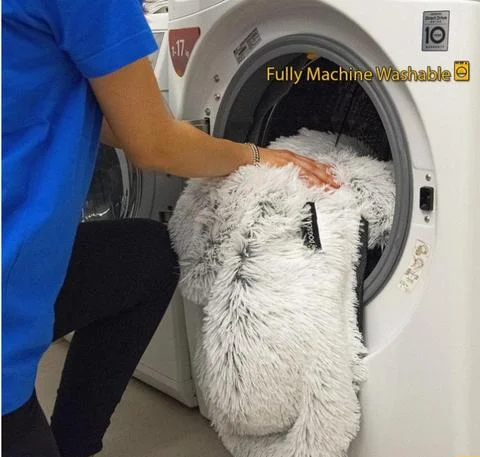 BLENDS WITH YOUR DECOR
Our Pet Calming Bed Sofa Protector is designed to fit into any room allowing them to maintain their original ambiance and aesthetics.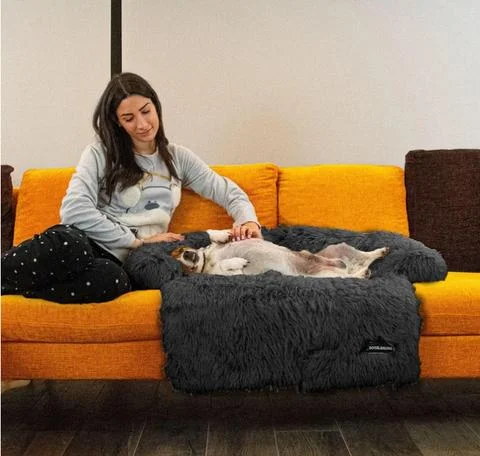 Sofa Bed Size Guide  (Outside Measurements)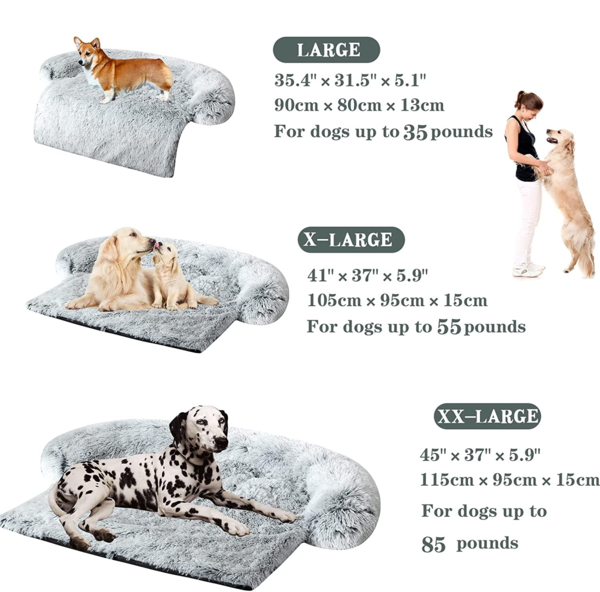 Outside Measurements
| | | | | |
| --- | --- | --- | --- | --- |
| SIZE(cm/inch) | M | L | XL | XXL |
| cm | 80*70*16 | 100*85*16 | 115*95*18 | 130*115*18 |
| inch | 31*28*6 | 39*33*6 | 45*37*7 | 51*45*7 |
Inside Measurements(Sleeping Area)
| | | | | |
| --- | --- | --- | --- | --- |
| SIZE(cm/inch) | M | L | XL | XXL |
| cm | 58*58 | 70*70 | 85*85 | 100*88 |
| inch | 23*23 | 28*28 | 33*33 | 39*35 |
Right Angle Tyle Size (Outside Measurements)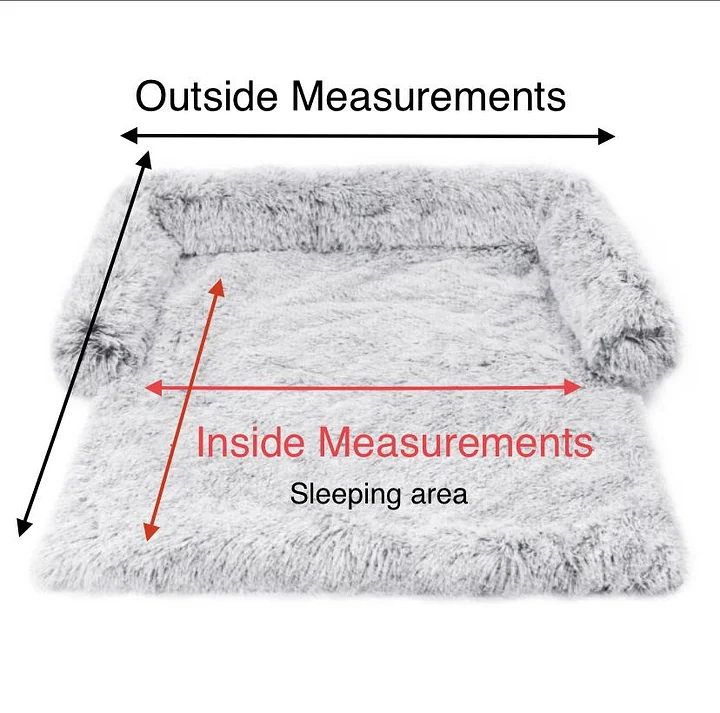 Outside Measurements
| | | | | |
| --- | --- | --- | --- | --- |
| SIZE(cm/inch) | M | L | XL | XXL |
| cm | 76*73*16 | 90*85*20 | 105*93*20 | 130*105*20 |
| inch | 30*29*6 | 35*33*8 | 41*37*8 | 51*41*8 |
Inside Measurements
(Sleeping Area)
| | | | | |
| --- | --- | --- | --- | --- |
| SIZE(cm/inch) | M | L | XL | XXL |
| cm | 53*62 | 65*72 | 76*81 | 76*95 |
| inch | 21*24 | 26*28 | 30*32 | 30*37 |
Shipping & Delivery
Free shipping for all orders over $69.99
Once your product has shipped, it usually takes 7 to 12 business days to receive depending on your location.
Return & Refund
You can return your product up to 30 days after receiving your order. Please make sure that the products are not used or damaged and in the original box.
All products are brand new unless otherwise specified. 
Washable Pet Sofa Bed, Calming Dog Bed, Dog Couch cover